Today, we have approached the era of exploding growth of population in Instagram, YouTube, Snapchat, and other platforms, where people do not look at each other that much how they look at the massively followed personalities. For that reason, personalities' profiles with thousands and millions of subscribers have now become new platforms for advertising.
In the world of developed social media, marketing has discovered new possibilities to connect brands with consumers through people (influencers) who have the power to make an effect on a targeted-by-brand audience.
Own a food delivery mobile application that needs some traffic? Ask a star from a superhero movie to confirm on his Instagram profile that your customer can rely on your delivery just like on him.
Looking for some traffic on your website with flight tickets? Let a popular travel blogger show in his video on YouTube how he uses your website and activity on it will be forthcoming.
Statistics show that more than 84% of brands have undertaken the influencer marketing campaign in 2016. Are you wondering now why it can be successful? Let's figure it out!
1. It is Native
Creating the branded message with a social media influencer allows presenting your brand more naturally, without displaying actual banners or interrupting the user from the original content. In some cases, the advertising is showed so naturally, that users consider the ad just like their icon advice. In addition, statistics say that 92% of people trust recommendations from 'influencers'.
For example, a mobile application 'Best Fiends' spent 90% of its budget on the YouTube influencers, like English popular YouTuber Daniel Middleton with 16 million subscribers. In his 20 minutes video, he tells how he became addicted to this game and advises everyone to try it. The results speaking for themselves, as 'Best Fiends' was downloaded 40 million times.
2. It is Powerful
Influencer marketing made it simple for people to become just like their icons. Imagine that a popular Instagram blogger with 10 thousand followers shares a video, where she tells that she uses filters of your Photoshop app to modify photos for the profile. The ad message that those 10 thousand receive will make them believe that they don't need skilled photographers and special equipment to take professional photos that their famous Instagrammer usually uploads, but they just need your app.
The Instagram campaign of Kylie Jenner and clothes brand Fashion Nova proves the power of influencer marketing. Photo posted by Jenner, wearing branded jeans gathered more than 2.5 million likes.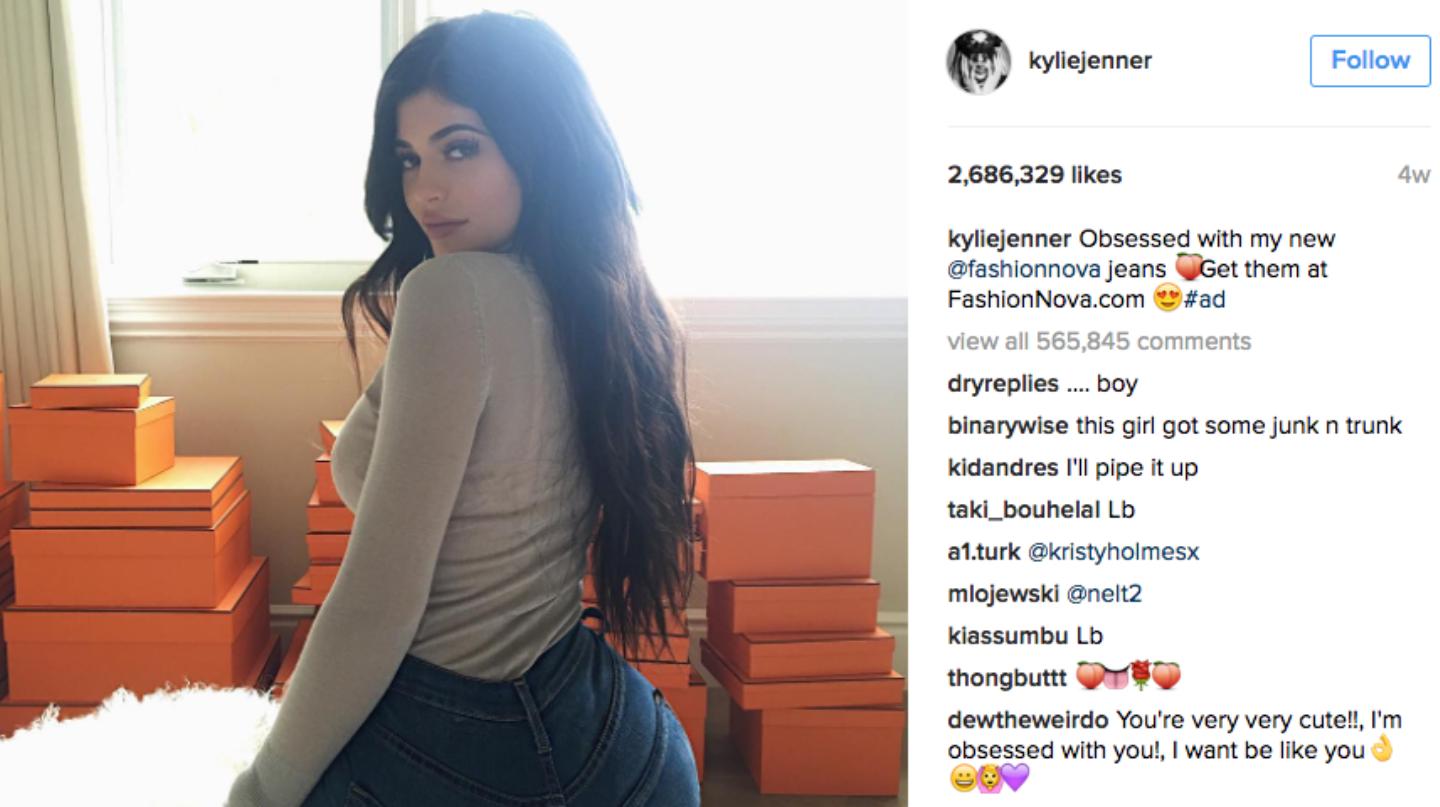 Having involved into partnership also others famous Instagram "influencers", Fashion Nova was adding 500,000 new Instagram followers every month during the time of running the campaign.
3. It can exist with ad-blockers
Recent research has discovered that about 54% of users feel frustrated when mobile consumption is interrupted because of an ad. Ad blocking browsers and tools are plenty to seduce those who share this feeling. Such as, at least 309 million people blocked ads on their smartphones in 2016, which was 102% more than in 2015, when publishers have lost $22 billion in revenues.  The numbers of 2017 can probably be even more dramatic, as ad blocking tools and apps promise not only to block the ads but also to speed up the internet connection and not to waste users' smartphones batteries. Influencer marketing seems to be able to deal with this challenge, as ad-blockers cannot block ads inside Instagram and YouTube photos and videos.
4. It is Social
The world is drowning into social media, where people are looking for entertainment, engagement, likes, information, and communications. Moreover, 70% of today smartphones owners are just too busy for time-wasting direct ads, banners or pop-up ads. However, people always have time for social platforms and their icons profiles. Such as, general internet user spends at least an hour watching YouTube content every day. How many videos, advertising your app, is he able to catch during this time, how many comments left, and how much of content share? So, Influencer marketing gives to the brands not only the opportunity to be delivered to the audience but also to be discussed in the comments of the 'influencer' and shared with the friends, which can end up with even larger coverage.
One of the most 'social' influencer marketing campaigns has managed to cover and amassed 3.6 million followers across brand's social media channels. The campaign was promoting Calvin Klein brand and involved many famous bloggers and celebrities, like Justin Bieber and Kendall Jenner across their Instagram, Twitter and Facebook profiles. After the brand promise to post the best user's photo on the Calvin Klein website, the hashtag #mycalvins has generated 1.6 million mentions in just 48 hours after the start of the campaign.
5. It is Memorable
The fox @juniperfoxx has 1.7 million followers on Instagram, where users can see her everyday activities. Recently, she has promoted the mobile app #FetchMyPet for animals, which helps to track pet life and offers animal products deals. The post gathered more than 52 thousand likes and 200 comments. Isn't it a proof of a quite good engagement rate from just one Instagram post?
Recent study has shown that use of animals in advertising is one of the most effective strategies to attract people's attention and influence on their purchase decisions. Moreover, after seeing the advert, people start associating certain brands with animals they were advertised with (e.g. crocodiles – Lacoste or swans – Swarovski). Today, when there are a lot of animals' profiles in the Instagram and YouTube with millions of followers, you can make a famous dog be your influencer and users will probably remember your mobile app every time they see dogs.
Another example of marketing with influencer-animal is a partnership of American husky dog – Loki with Mercedes-Benz. The video, posted on YouTube shows how Dog Wolf husky easily run through deep snow meaning that a car of the top brand can do this easily as well. At the same time, people see the view from a car cabin – demonstrating how comfortable this can be.
YouTube campaign gathered more than 166 thousand views on the Mercedes-Benz Channel, and comments spoke for themselves:

6. It is adjusted to your audience
Influencer marketing gives freedom of choice of influencers to the brands and it is very important to find a right person.
Firstly, let's find the 'influencer' who has a suitable audience for your app, as it is very unlikely that YouTube food blogger can successfully bring installs for your betting mobile application.
Secondly, let's create a marketing campaign, which would do both: attract the 'influencers' and cover maximum from their audience. For example, two-three famous YouTube gamers – 'influencers' with 10-100 thousand subscribers in their videos would show how they play in your mobile game against each other for the bigger score. Engaging enough?
So, a correct influencer marketing campaign can help to attract new users for your mobile app.
Already worked with influencers ? Share your experience in the comment section below, we'd love to know how that worked out for you.