From year to year users tend to spend more money on mobile applications. For example, it was estimated that IOS apps consumers have spent about $40 per device in 2016 (in comparison to $35 in 2015), while 2017 app spending has grown by 28 percent in comparison to 2016. A total App Store and Google Play revenues in 2016 reached $17 billion, and although IOS's sum was ahead, both operating systems increased their rates by 25 percent in comparison to previous year. Such as, only spending on applications from Entertainment category increased by 130 percent and this included the spending both on top and world-famous apps like HBO NOW and Netflix and on less popular apps. The rest three categories that were noted because of spending increase were Photo&Video, Music and Social Networking apps.
It was also predicted, that the number of installs will reach 240 billion while users money spend on mobile applications will hit $100 billion by 2021.
There is also another tendency that the time dedicated to mobile apps is also growing from year to year. Such as the time spent in mobile apps on Android has grown by 40 percent in comparison to last year, excluding China; and it is 17 percent higher than in 2016 among all operating systems and countries.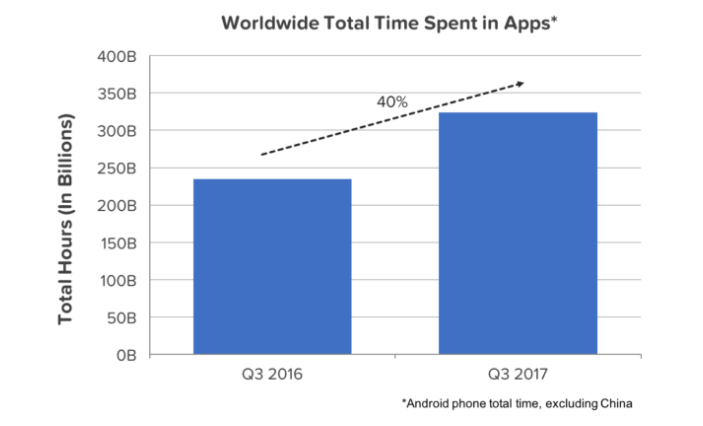 Regarding the categories of most taking people's times apps – it was measured that users started to spend more time mostly on shopping apps. Amazon Shopping, Wish, Zulily and Etsy can now boast that the time spending on them has grown by 44 percent in 2017 compared to 2016. It was also discovered that in this year the number of shopping apps installs has globally raised by 20 percent comparing to last year. Also, typically users perform activities in two to four shopping apps per month in 2017 out of about 30 apps in total. Regarding the operating systems, in spite of the fact that App Store has increased the number of installs by 8 percent in comparison to the last year, Google Play is still dominating over it and boosting the difference by 10 percent.