Efficient R&D and technology organization, at the heart of TimeOne's development plan
TimeOne R&D and technology team consists in seasoned professionals ensuring continuously enhancement of services portfolio and improving existing functions
The team is composed by a variety of expert profiles including product owners, web developers, data scientists and network engineers
This organisation provides flexibility in the innovation process while demonstrating complementarity to solve and improve existing services
Tailor-made approach to meet clients constraints and IT specificities
Permanent interactions with existing clients to meet market evolution
R&D is integrated into the whole Group's structure as the bedrock of its development:
Technological innovation stimulated by regular events (Coding Contest / BootCamp)
Partnerships with top French universities and laboratories (Ecole Centrale Supélec, Paris-Saclay university, etc.)
Combination of advanced data-driven digital services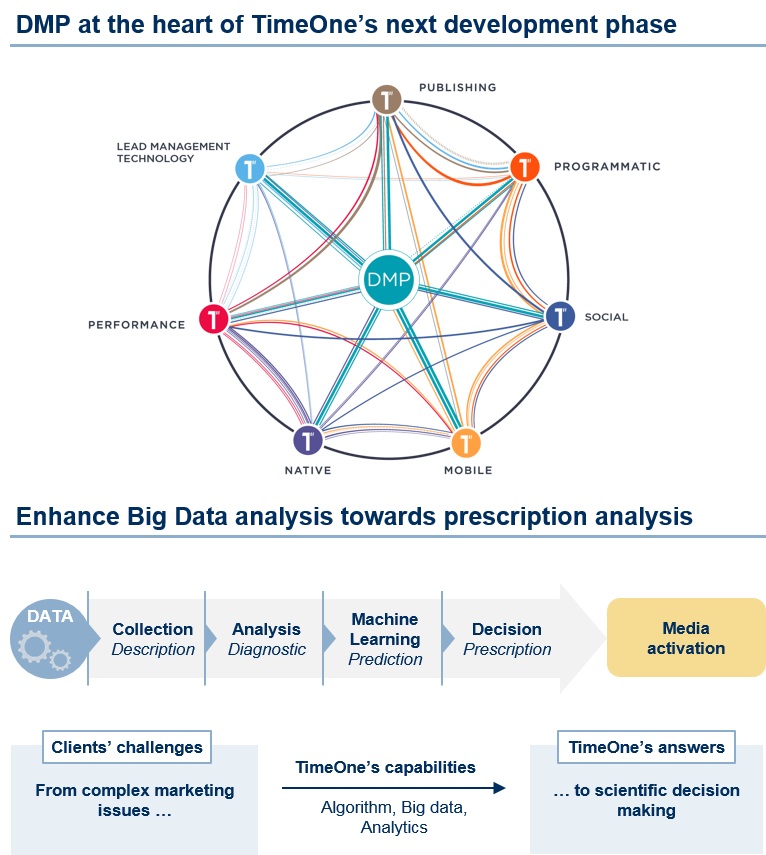 †TimeOne's proprietary DMP is at the heart of the next development stage of its digital strategy and paves the way for further technological developments to implement tailor-made disruptive solutions to foster client ROI leveraging on user experience and behaviour (i.e. value-added data)
†DMP technological process aims at scoring audience while stimulating interactions between users and advertisers and collecting profiles to enhance targeting process on specific digital campaigns
†DMP is managed by a team led by highly skilled professionals respectively in charge of:
–R&D focused on product development consistently with client requirement and specifications and ensuring relationships with engineer schools and research labs
–Data destined to algorithm development to optimize diffusion stream and Big Data analyses (predictive analysis)
–Technology dedicated to adapt technology to product platforms, construction projects, and DMP development
†TimeOne is a forerunner in data-driven services, exhibiting better results than usual ROI-oriented process focusing on accumulations (ads, leads, etc.) rather than data diagnostic and user behaviour understanding
-R&D (incl. DMP, Big data, data scoring, technology, etc.) is the backbone of TimeOne product innovation supporting the implementation of tailor-made advanced digital solutions to meet advertisers' campaigns objectives
-The R&D team demonstrated its ability to address complex e-marketing through scientific decision making process to be solved through proprietary algorithms
-TimeOne' s DMP has become the technological link between users and advertisers, through the collection of data, the analysis and diagnostic, the identification of the most relevant content to activate the most relevant media (ads, content, auction, leads, etc.) implementing a multi-device digital marketing strategy
The DMP, at the heart of TimeOne's unique service offering combining efficient R&D capabilities and technological skills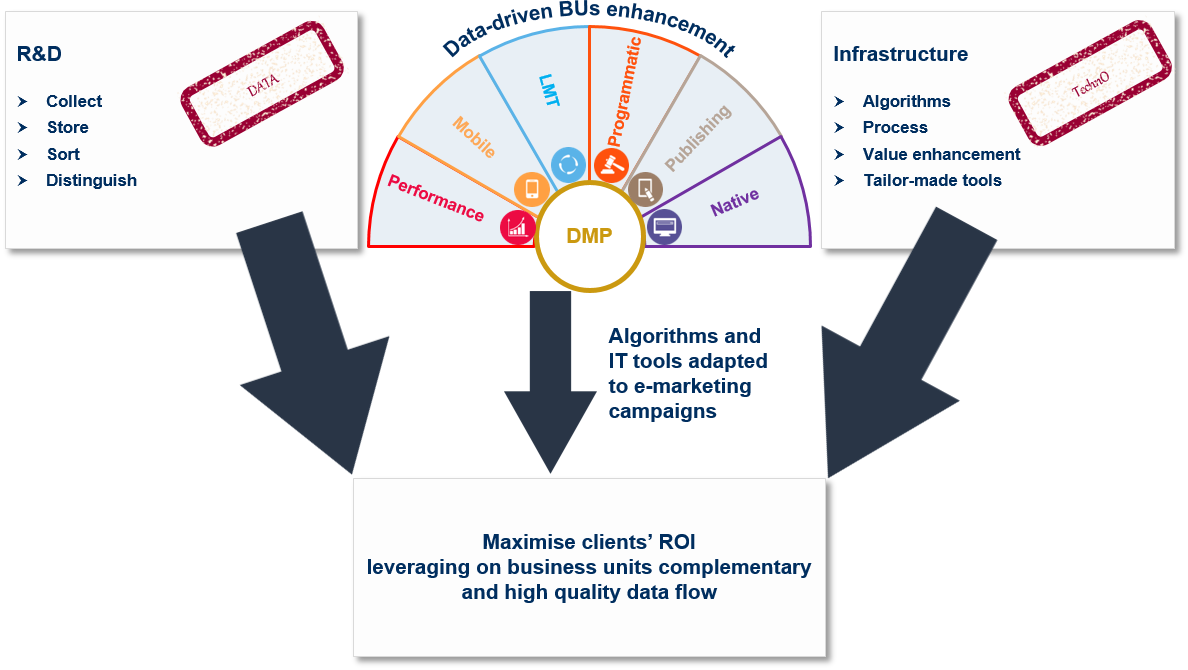 †
Mentionne is currently developing a Data to Decision-Making (DMP) proprietary tool, based on prescriptive marketing:
-Database continuously fed by all TimeOne's business units (descriptive analysis)
–Tailor-made algorithms combined to Big Data analysis aiming at anticipating customer behaviour (predictive analysis)
–Data transformation into client knowledge enabling to maximise clients' ROI by further monitoring users conversion funnel (prescriptive analysis)
†The DMP will enable to:
-Efficiently collect data while providing a transversal access to all business activities
–Accelerate and facilitate
decision-making processes offering multiple scenarios and recommended solutions
-Implement a multi-device digital marketing action plan across diversified connected devices
Permanent innovation process to fulfil clients' requirement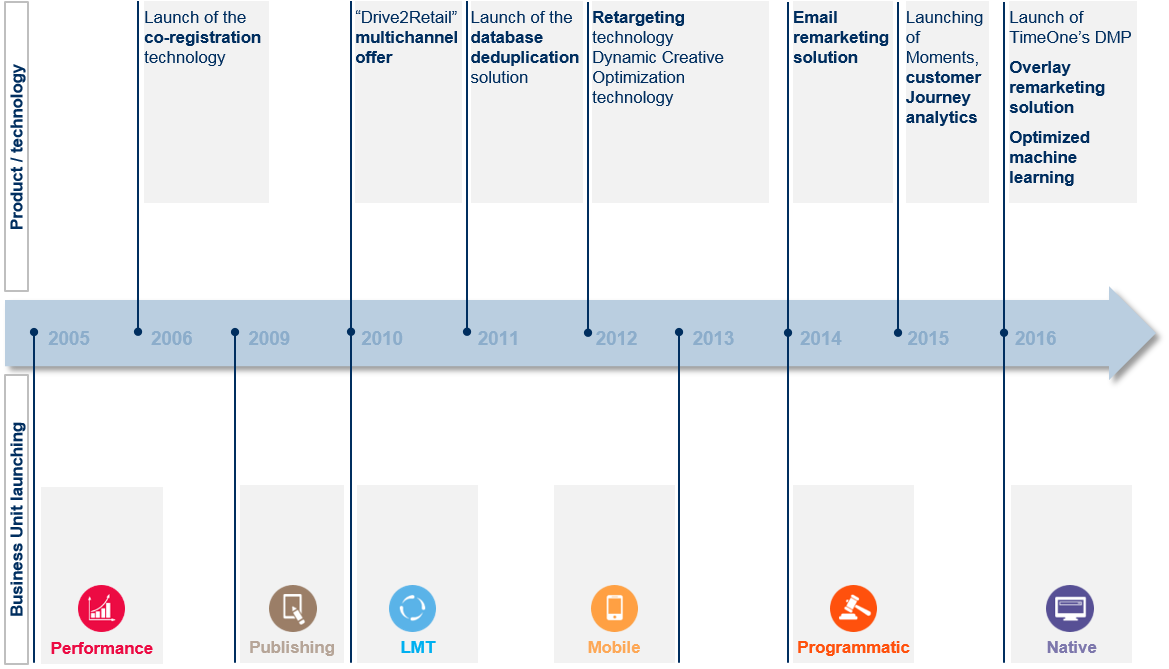 †Permanent and successful IT development and services innovation are part of TimeOne's DNA reflecting its ability to:
–Adapt its business model to market evolution and client's needs
-Enhance its service offering with cutting edge and complementary solutions
-Create proprietary tools and algorithms to support market leading positioning and limiting competition
†Key technological levers at the cornerstone of the company's innovation process include:
-Data (collection, tracking)
-Decision-making dashboards (algorithms, consulting tools)
-IT scalability (compatibility at global scale)
†TimeOne is one of the sole digital player combining an efficient set of digital services and proprietary tools with a strong commercial and technologic edge compared to existing players.